This post contains affiliate links. For more information, check out our disclaimer.
Looking to keep your engine purring like a well-oiled machine? You're in luck! In this comprehensive guide, we've curated the ultimate list of the 10 best engine oil filters on the market. From high-performance powerhouses to budget-friendly champions, we've got you covered.
Whether you're navigating high-mileage terrains, tackling relentless stop-and-go traffic, or indulging in the goodness of synthetic oils, our selection caters to your specific needs. Prepare to uncover the crème de la crème of oil filters, delivering unrivaled filtration, unyielding durability, and unbeatable engine protection for your prized vehicle. Let's dive in!
What Is an Oil Filter?
In your vehicle's lubrication system, the oil filter plays a crucial role. It's like a superhero that swoops in to eliminate all the bad stuff from your engine oil. Picture this: it captures pesky particles like dirt, metal fragments, and sludge, stopping them from causing havoc in your engine.
By swapping out the oil filter on the regular, you're giving your engine the clean oil it craves, which in turn keeps it humming smoothly and going strong for the long haul.
How To Choose the Best Oil Filter?
When you're on the hunt for the best oil filter for your ride, keep these key factors in mind. First things first, make sure it's a perfect match for your vehicle's make, model, and engine specs. Look out for filters that not only meet but go above and beyond the OEM standards for top-notch quality and performance.
Next up, think about how efficient and capacious the filter is. The better ones out there can handle those teeny-tiny particles like a boss and hold onto more gunk. You'll also want a filter that's built tough and has a trusty anti-drain back valve to prevent any annoying oil leaks and guarantee smooth oil flow when you turn that ignition key.
It's also worth considering the brand's reputation, what fellow drivers have to say in their reviews, and the warranty they offer. And hey, don't forget to consult your vehicle's manual or seek advice from a reliable mechanic. They'll steer you in the right direction and help you make a smart choice.
10 Best Oil Filters
1. Best Performance: Fram Oil Filter XG7317 Ultra Synthetic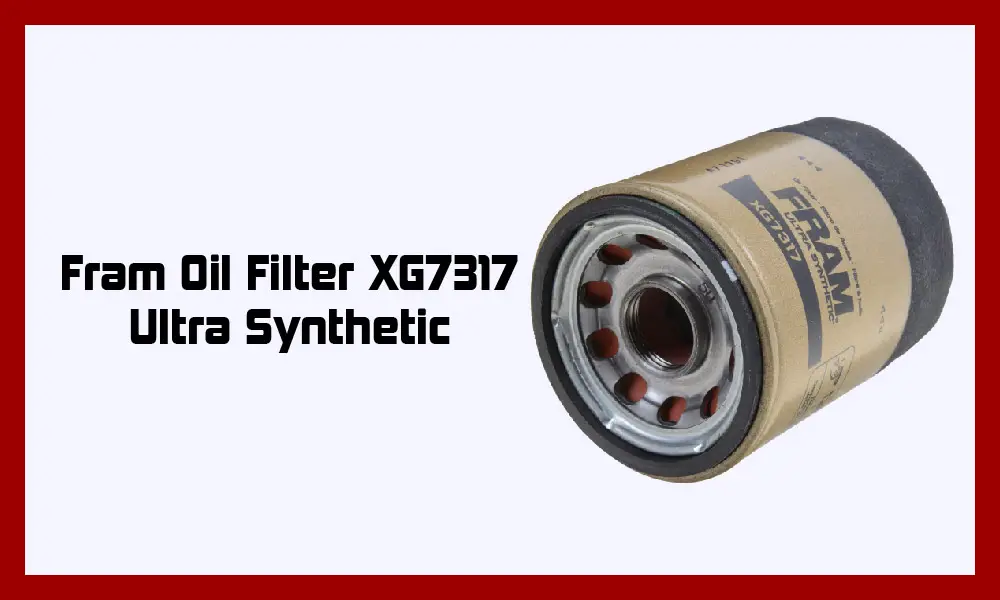 Fram oil filters have earned quite a reputation for their outstanding performance. They boast an advanced synthetic blend media that excels at filtration, nabbing even those itty-bitty particles.
Plus, their sturdy construction and high-flow design ensure that oil flows smoothly, safeguarding your engine like a champ. These filters are masters at eliminating contaminants and can even stretch out those oil change intervals, making them a popular pick for folks who crave top-notch performance.
2. Most Affordable: ACDelco PF2232 Professional Engine Oil Filter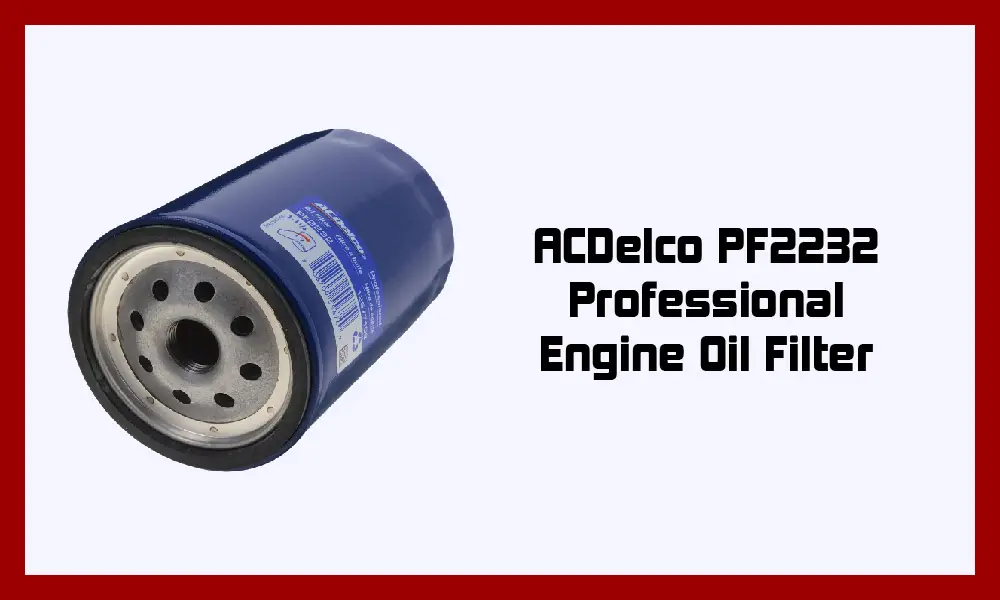 The ACDelco PF2232 Professional Engine Oil Filter is a standout choice that strikes a balance between affordability and reliability. Crafted by a reputable brand, it delivers effective filtration without breaking the bank. Its durable construction and top-notch filter media work together to capture contaminants, ensuring your engine stays protected.
Thanks to its reasonable price and dependable performance, this oil filter provides great value for your hard-earned money.
3. Top-of-the-Line: Baldwin B1400 Oil Filter
The Mobil 1 M1-110 Extended Performance Oil Filter has earned its reputation as a top-tier, high-performance option. It's specifically engineered for extended performance, guaranteeing remarkable filtration efficiency and long-lasting durability.
Thanks to its advanced synthetic media, it excels at shielding the engine from contaminants, ensuring a clean and healthy environment. Its robust construction and high-capacity design enable seamless oil flow and consistent performance, making it a premium choice for customers who demand the best.
4. Best for High Mileage Cars: Purolator PL14610 PureONE Oil Filter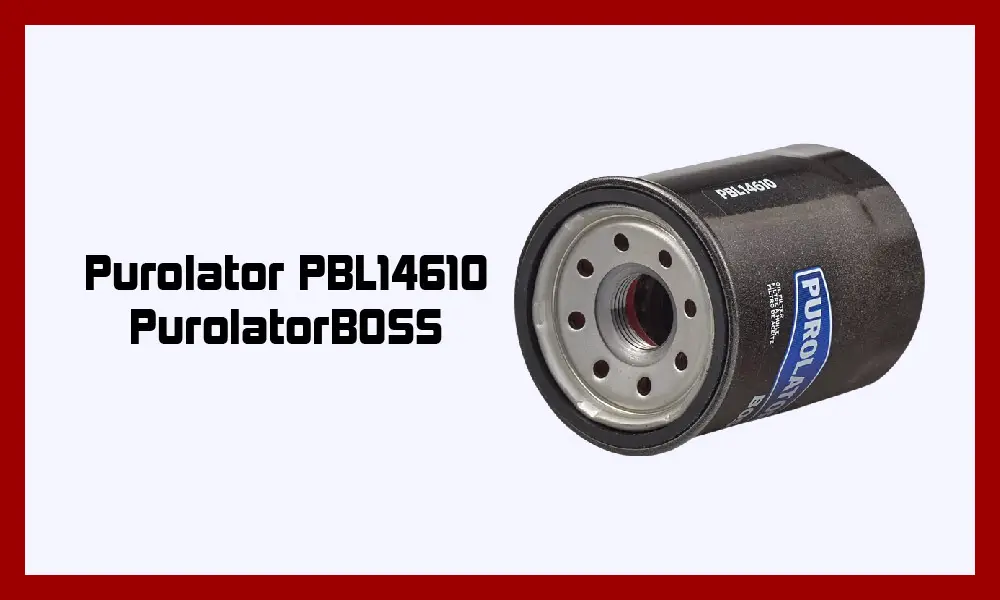 The Purolator PL14610 PureONE Oil Filter proves to be an excellent option for high mileage cars. Its advanced synthetic blend media is specifically designed to efficiently capture and retain contaminants, safeguarding the engine against potential damage. With its impressive dirt-holding capacity, this filter can handle extended usage while maintaining optimal performance.
Additionally, it features an anti-drain back valve that effectively prevents dry starts, making it a particularly suitable choice for older vehicles with higher mileage.
5. Best for Stop-and-Go Traffic: Bosch 3330 Premium FILTECH Oil Filter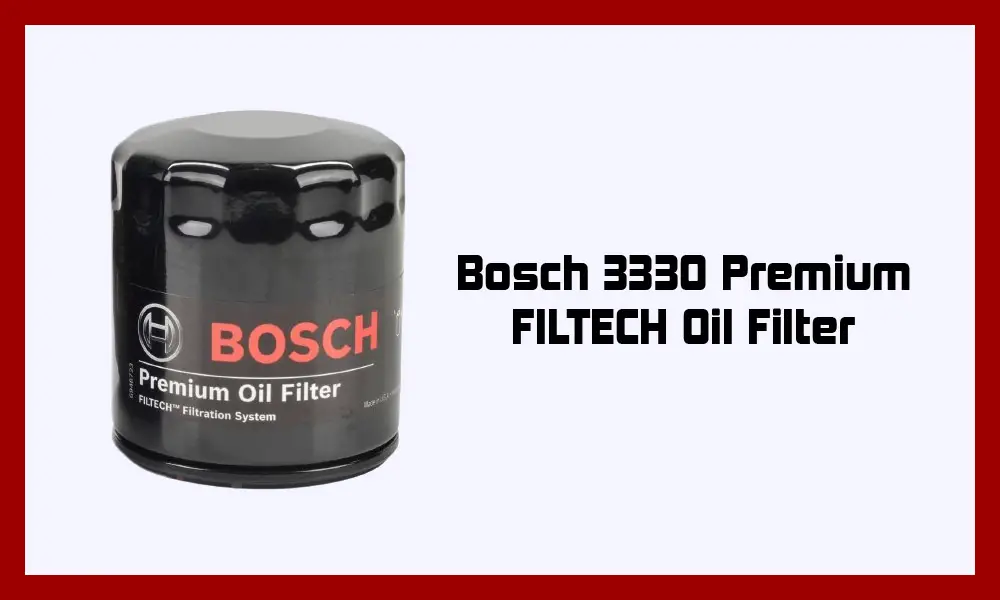 The Bosch 3330 Premium FILTECH Oil Filter is purpose-built for demanding stop-and-go traffic situations. It employs a combination of natural and synthetic materials in its filter media to deliver efficient filtration and enhanced dirt-holding capacity.
Designed with durability in mind, this oil filter features a robust construction and a silicone anti-drain back valve, guaranteeing dependable oil flow and safeguarding the engine against wear caused by frequent starts and stops. For urban dwellers and city drivers, it's an exceptional choice that delivers on performance without compromising reliability.
6. Best for Light Trucks: Motorcraft FL-820S Silicone Valve Oil Filter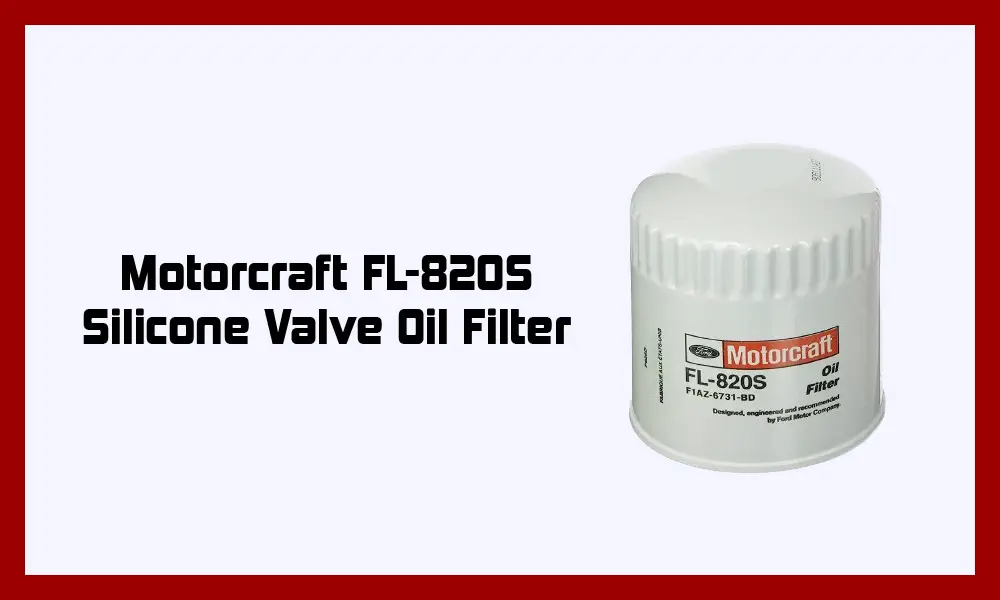 The Motorcraft FL-820S Silicone Valve Oil Filter is specifically designed to cater to light trucks' needs. Made by a trusted OEM brand, it delivers exceptional filtration and long-lasting durability.
This oil filter stands out with its silicone anti-drain back valve, which guarantees immediate lubrication upon start-up by preventing oil from draining out of the filter. With its efficient filter media and sturdy construction, it provides reliable engine protection that meets the unique requirements of light trucks.
7. Best for Synthetic Oils: Royal Purple 10-2835 Extended Life Premium Oil Filter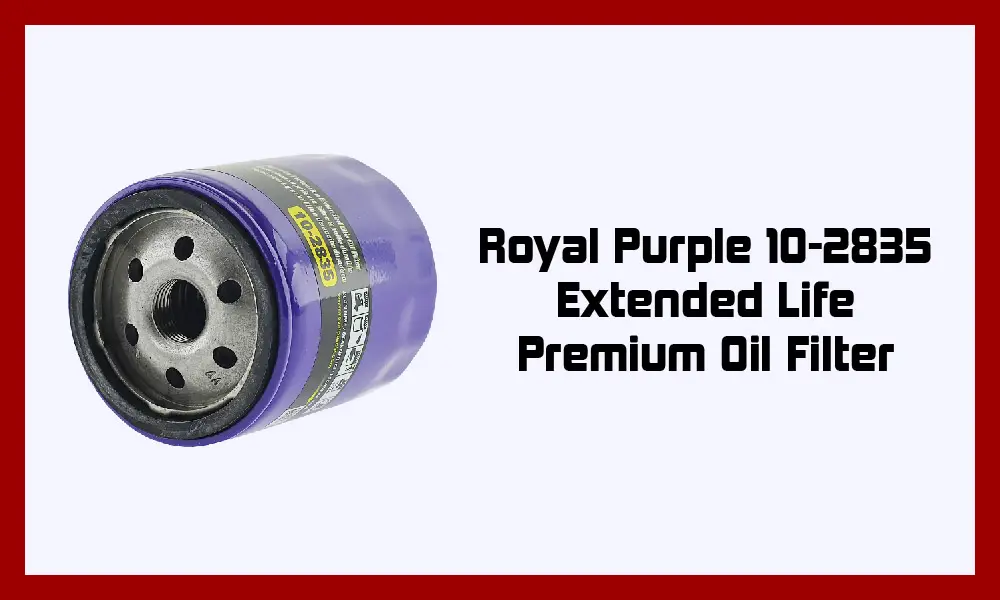 The Royal Purple 10-2835 Extended Life Premium Oil Filter shines as an outstanding option tailored for synthetic oils. Its engineering is specifically geared towards meeting the rigorous demands of high-performance synthetic lubricants. By utilizing a proprietary synthetic micro-glass media, this oil filter delivers unmatched filtration efficiency and exceptional contaminant removal. Its robust construction and inclusion of a silicone anti-drain back valve make it the perfect companion for vehicles relying on synthetic motor oil.
8. Best for Conventional Oils: WIX Oil Filters 51348 Spin-On Lube Filter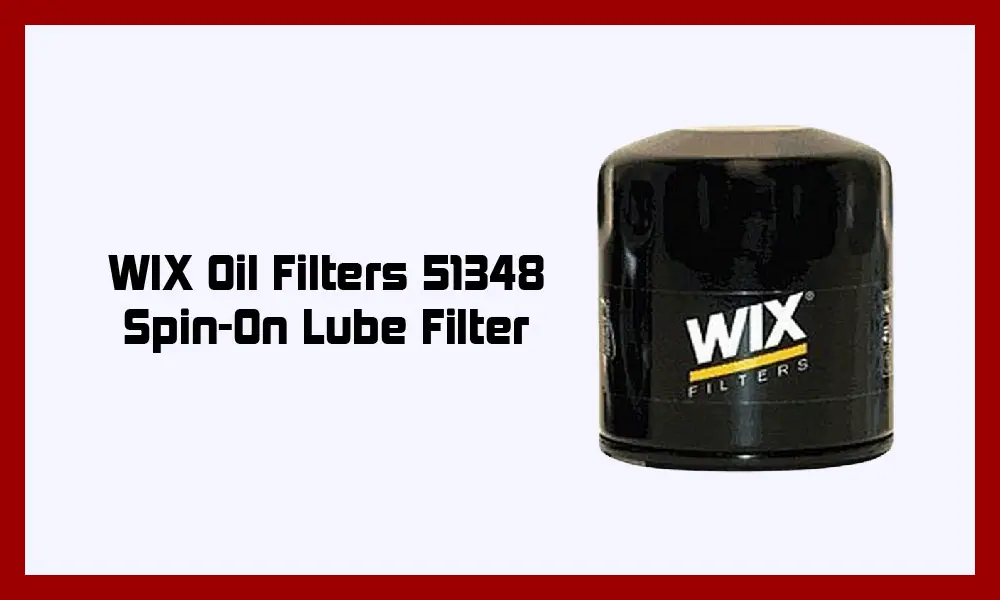 The WIX Filters 51348 Spin-On Lube Filter takes the spotlight as a preferred option for conventional oils. Its excellent construction and trusted OEM oil filter media work together to deliver reliable filtration and dependable engine protection. Its efficient design efficiently captures contaminants, preventing them from wreaking havoc inside the engine.
When it comes to engine maintenance with conventional oils, this oil filter offers peace of mind and ensures optimal performance. It's a trusted choice for those who prioritize the well-being of their engines.
9. Best for Synthetic Blends: K&N PS-1008 Pro-Series Oil Filter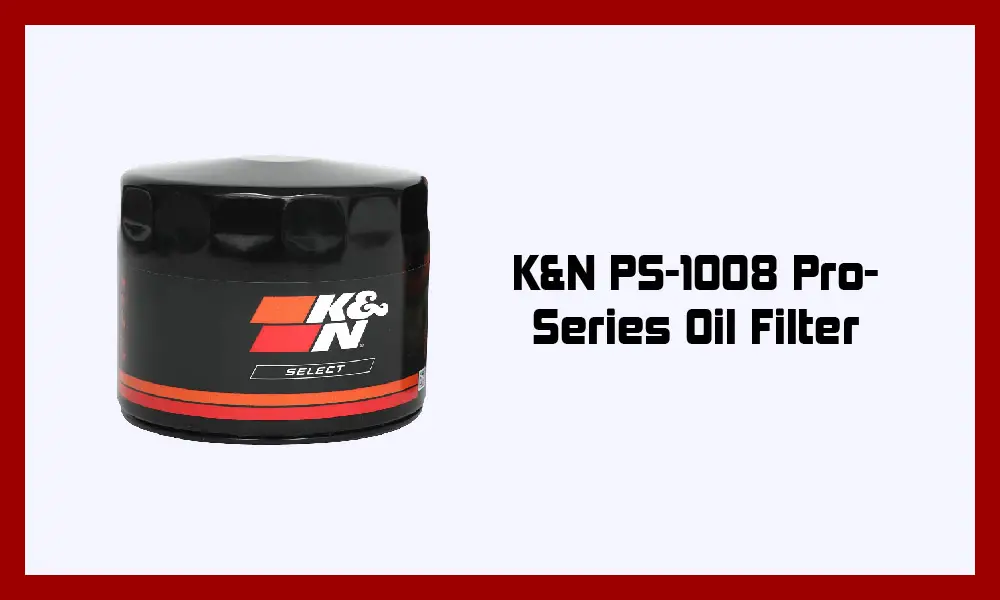 The K&N PS-1008 Pro-Series Oil Filter is a standout option, particularly for those using synthetic blend oils. It's purposefully designed to meet the demands of both synthetic and conventional oils.
This oil filter boasts a high-flow filter media, ensuring efficient removal of contaminants while promoting excellent oil flow. Its strong construction and durability offer dependable engine protection, specifically tailored for vehicles utilizing synthetic blend oils.
10. Longest Changing Interval: Mobil 1 M1-110A Extended Performance Oil Filter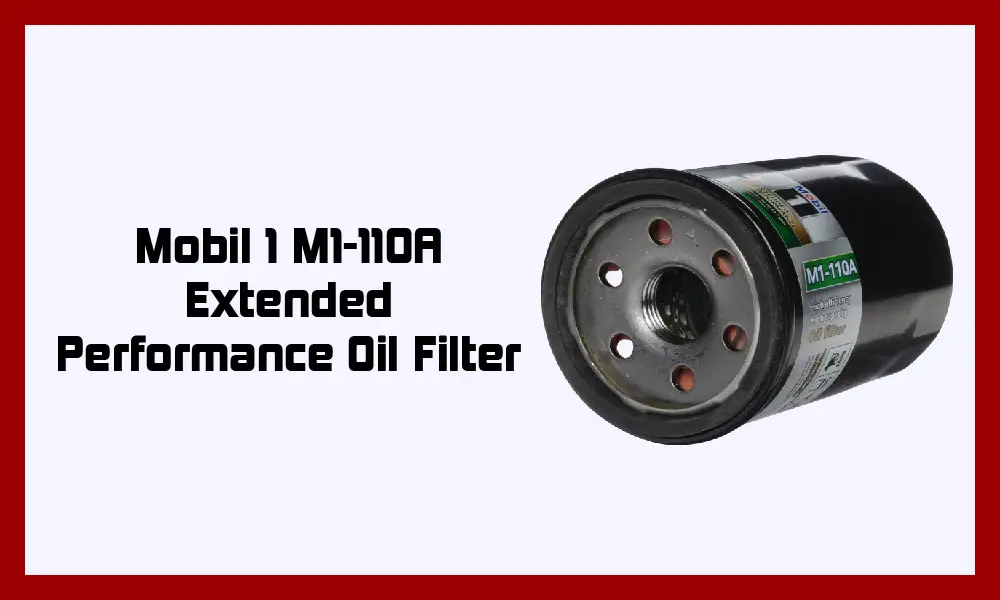 The Mobil 1 M1-110A Extended Performance Oil Filter has gained a well-deserved reputation for its remarkable extended oil change interval capabilities. Its advanced synthetic media ensures outstanding filtration efficiency and effective removal of contaminants.
Designed for long-lasting performance, this oil filter enables oil change intervals of up to 15,000 miles. It guarantees clean oil and optimal engine protection over an extended period, making it the preferred choice for those seeking longer intervals between oil changes.
Engine Oil Filters: Summary
| | |
| --- | --- |
| Oil Filter Model | Pros |
| Bosch 3330 Premium FILTECH | High-quality filtration for extended engine protection |
| Mobil 1 M1-110 Extended | Excellent debris removal and superior engine protection |
| Purolator PL14610 PureONE | Advanced filtration technology for enhanced engine performance |
| K&N HP-1003 Performance | Durable construction and high flow rates for optimal oil circulation |
| Fram XG7317 Ultra Synthetic | High dirt-holding capacity and improved engine efficiency |
| Royal Purple 341777 Extended | Long-lasting performance with premium filtration efficiency |
| WIX 51348 Spin-On Lube Filter | Impressive dirt-trapping efficiency and excellent oil flow |
| AC Delco PF2232 Professional | Designed for professional-grade engine protection and durability |
| Motorcraft FL-820S Oil Filter | Original equipment manufacturer (OEM) quality with reliable filtration capabilities |
| Baldwin B1400 Heavy Duty Lube | Heavy-duty design suitable for commercial and industrial applications |
Final Thoughts: Top 10 Best Oil Filters — Expert Picks
To sum it all up, folks, selecting the right oil filter is an absolute game-changer when it comes to preserving your vehicle's engine performance and lifespan. Now, the rundown of the 10 best oil filters we've laid out here? It's a star-studded lineup of top-quality choices that do a smashing job at trapping those pesky contaminants and keeping that oil circulating nice and clean.
Whether you're after bulletproof durability, mind-blowing efficiency, or even wallet-friendly options, these oil filters go above and beyond to deliver mind-blowing results. It's a win-win situation for your engine, my friends. So go ahead, choose one of these beauties, and watch your ride purr like a contented kitten. Keep on cruisin'!
For more information on engine oils, explore our blog.
Frequently Asked Questions